Environmental Commitment
Environmental management
Having obtained ISO 14001 certification, AMADA WELD TECH CO., LTD. is working not only to reduce the environmental burden caused by its business activities, but also to achieve goals set from a broad perspective that take into account its core business operations in order to reduce the environmental burden of our society as a whole.
We are also working to develop environmental technologies aimed at saving energy and resources, as well as promoting the management of chemicals and the recycling of waste. By reducing the costs incurred from the use of our products through to their disposal, we will add greater value to our products and contribute to our customers' efforts to reduce the environmental burden.
Overview of AMADA WELD TECH's environmental management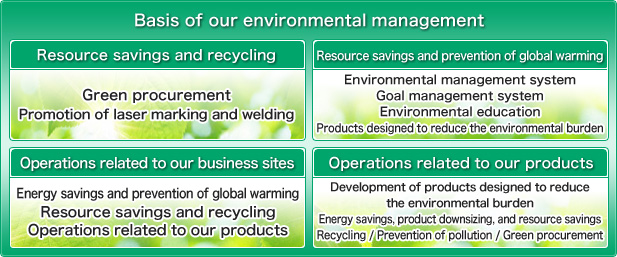 Product initiatives
*With a view to reducing the environmental burden caused by the parts and materials we purchase from our suppliers, we promote the recycling of these parts and materials. We also review the parts used in our factories based on our Green Procurement Guidelines in order to replace them with environmentally preferable parts and to enhance the management of the chemicals contained in our products.
*When developing a new product, we make a careful assessment of its energy-saving capacity, level of downsizing, resource-saving performance, and chemical content. We also work to reduce waste by promoting recycling in order to create environmentally conscious products such as our newly developed fiber laser systems.
Sale of products that comply with the RoHS directive
AMADA WELD TECH introduced initiatives to reduce the use of environmentally hazardous chemicals well in advance of other companies and has been producing and selling products that comply with the RoHS directive since 2008.
Six hazardous substances banned under the RoHS directive:
Lead and its compounds
Cadmium and its compounds
PBBs
Hexavalent chromium and its compounds
Mercury and its compounds
PBDEs
List of business sites with ISO 14001 certification obtained:
| Site | Certified date |
| --- | --- |
| Noda factory | Dec. 19, 2014 |